The ultimate solution created by Rematek-Energy to help you design your off-grid
and hybrid PV systems.

Flexibility and customization according to your specific needs and projects.
12 different PV system configurations.
Solar factors available for all countries.
User-friendly interface with an artificial intelligence assistant that will guide you through the creation process and simplify each step.
Visibility on Rematek-Energy part numbers, data sheets, inventory and product manuals.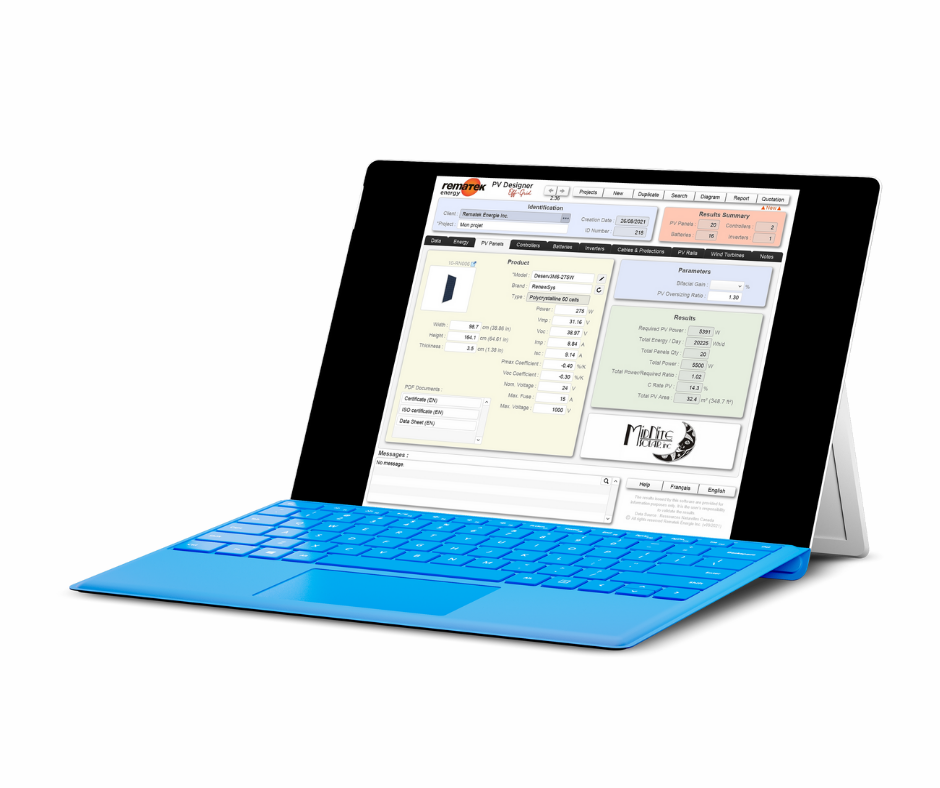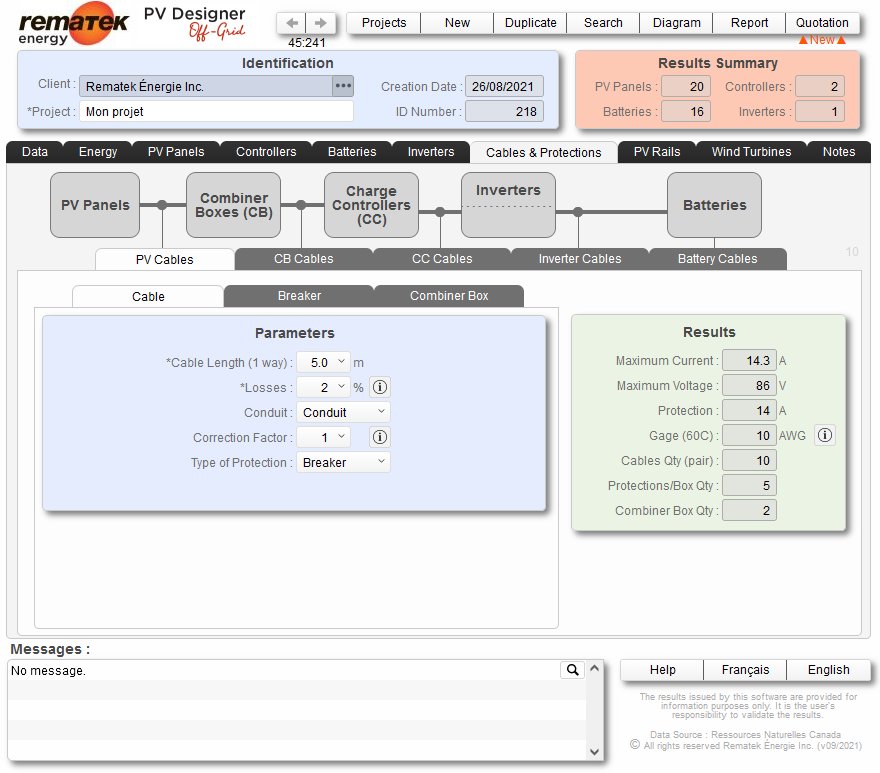 Create as many projects as you want and log in at your convenience, without any restrictions.
Make as many changes as you want and get instant results, no waiting.
Real-time accessibility, live 24 hours a day, 7 days a week, directly from our website, absolutely free!
User-friendly and secure platform. Your data is confidential.
All your projects are easily accessible in one place, at any time.
Design perfect PV systems in a fraction of the time, and serve more customers, more efficiently!
Here are some testimonials from some of the most respected experts in the field of off-grid systems:
As a battery manufacturer, we're pleased to see the straightforward and detailed approach to system design incorporated into this valuable tool. Installation and code requirements, product selection, charging requirements, as well as equipment compatibility have all been considered, allowing Installers to properly and efficiently size, package, and quote systems in an easy step-by-step process.
Jeff Myles, Rolls Battery Engineering
This system design tool is something that is extremely useful in the power electronics industry. It is well thought out and covers many of the common questions from installers. As a technical Sales Manager, I can certainly see how this will address many of the challenges from start to finish during the design process.
Justin Larrabee, Sales Manager, Victron Energy
Quite impressed actually. Highly customizable and follows best practices/code very well. Everything being linked clearly is so valuable and the extra checks for compatibility that it automatically does are the biggest upside. The tool is basically a culmination of all the design portion of the off-grid class all package up into a nice program that is easy to use.
Evan Kraemer, Stardust Solar
Rematek Energy has built an impressive, world-class off-grid PV system design platform. It's one of the best I've seen in my 10 years working in the solar industry and the only one to seamlessly link the technical design phase of a project with pricing and inventory in real-time. This is nothing short of a breakthrough achievement enabling PV design and installation companies to eliminate guesswork with a proven design methodology, reduce project execution time and achieve better outcomes for end customers. As a manufacturing partner we're excited to enable our mutual customers to confidently design systems around our component parts with confidence!
Kyle Willsey, Business Development Manager, Morningstar Corp.
For me, PV designer is more than a photovoltaic system sizing software program; it's an intuitive tutorial that supports and comforts the user in the design of his projects.

I've been a renewable energy consultant since 1996, and I'd previously developed design aids based on Excel spreadsheets, but PV designer encompasses all the information and techniques in the field. Its user-friendliness surpasses anything else in the field. It informs, shows where we can improve our projects and instructs us in best practices. He's an instructor and a facilitator. For me, as a user, it's the practical application of all my years in the field. It would be difficult for me to go back to my old Excel files, however valuable they may be when I see the professional files that are produced by PV designer. The data in the software is based on validated and rapidly updated information. Just imagine the frustration of working on a project where you plan to use this or that piece of equipment without knowing that it is no longer available, or that its availability is uncertain. Now, with PV designer, the report can be submitted to the customer with confidence.

Congratulations to the team behind this software, which I consider revolutionary in the field of renewable energies.
Roch St-Pierre, President of Micro-Énergies
As a user of the tool developed by the Rematek Énergie team, PV Designer enables me to quickly dimension an off-grid hybrid system. In addition, I can obtain concrete results for several variants, such as:

Technical and detailed dimensioning of a solar installation
One-line diagram
Evaluation of material supply costs in the form of a service offer, to which we can add our profit margin, as well as labor and travel costs in the area.
Very user-friendly and flexible tool
Equipped with a bank of technical manuals for the various equipment used for sizing and related to Rematek Énergie's in-store products.

In conclusion, this is an excellent tool for optimal sizing of a given installation, and I highly recommend it.
Bernard Cyr ing, President BC Énergies Inc.
To start designing systems today, simply go to www.rematek-energy.com and select the Products section. Products. Log in using your usual credentials and click on the PV Designer Off-Grid launch button at the bottom right of your screen.
You don't have your personalized access to the Rematek-Energy website yet?
Government funding and incentives for renewable energy
Are you based in Canada? Find out about the range of government support and funding programs available. Analysis of your project may allow us to help you in this matter. Ask our Customer services for more information !!